In the beginnings…
On Sukumvit Soi 22 in downtown Bangkok, a restaurant experience that initially wowed diners in Shanghai and then Beijing is now doing the same in the Thai capital following the opening of New York Style Steak & Burger – the buzz- worthy creation of a born-and-bred New York native.
It is a recipe of international success born of a desire to serve the highest quality, best-tasting burgers and steaks at a real-value price and in a contemporary urban chic atmosphere in keeping with Park 22, the stylish new complex it islocated in.
New York Style Steak & Burger is owned and managed by former model, Thai cooking and catering expert and self-confessed "steak freak" Khun Naalinlat, better known as Lina. She has employed a business model where attention to detail, getting the little things right, is key.
A graduate of the Oriental Culinary School and a steak connoisseur, Lina met Dennis Braco – owner and founder of New York Style Steak & Burgers, New York Style Pizza and fine dining restaurant Shanghai Slim's – while working in Shanghai. Mr Braco's group has been a sensation in China, with 18 restaurants in operation in Shanghai and Beijing and regular customers including a who's who of US NBA stars, reality television star, hotel heiress and sometime DJ Paris Hilton and Allan Wu, from AXN's Amazing Race Singapore.
Both foodies, Lina and Dennis connected right away. On a trip to Bangkok, it was Dennis who suggested to Lina that she open a New York Style Steak & Burger in Bangkok. Both saw the opportunity in the City of Angels, with a marked lack of quality at the right price. When the opportunity to secure a prime second floor and balcony space in Park 22 presented itself, the rest quickly fell into place.
Of the restaurant's Soi 22 location, opposite the former Imperial Queen's Park hotel, Lina said: "I always had Soi 22 in mind. It's a soi that is becoming increasingly hip, with a diverse selection of bars, restaurants, galleries, even a private cinema club. We are located in a great little enclave of new restaurants and shops."
The signature burger dish is the Manhattan Monster, a mighty plate adding bacon, cheese and fried egg to the sizeable 220g pure, homemade grounded beef, costing THB450. Other burgers such as The Petite start at THB250, and there is also a range of sliders for smaller bites. Steaks begin from THB1,150 for 250 gms of striploin. American Craft Beer and freely poured cocktails named after New York districts – such as Little Italy and Brooklyn Bridge – are also available. Seating is inside or on a chilled out balcony area.
Lina said she would be following to the letter the "secret" to New York Style Steak & Burger's success, namely grinding imported fresh beef every day, using a custom-made char-broiler and making all toppings, condiments and sauces in-house, with fresh and where possible locally sourced ingredients.
In Shanghai, critics have raved about the experience: "The KING of Burgerland" (Shanghai Xpat), "The Best Beef Burger in Shanghai….hands down" (Time Out) and from Sugared&Spiced.com, this piece of advice: "Go to NY Style Steak & Burger and order The Manhattan Monster. The beef patty itself is made with not much else other than good meat, and is accompanied by crisp bacon, cheddar cheese, fried egg, firehouse chili, onions rings (a little mountain of 'em), lettuce, pickles, and tomato. Served with a side of fries, this burger will fill you up no matter how hungry you are."
---
Why USDA?
Certified Angus Beef is the result of a group of US farmers deciding in the 1970s that good was not good enough. They were guided by a "virtual obsession with flavour and juiciness". And they now want you to know that while Angus beef is good, it is not a patch on Certified Angus Beef..
The farmers established the non-profit American Angus Beef Association in 1978. Certified Angus Beef is inspected for quality and wholesomeness by the USDA and graded for quality and consistency. There are Prime, Choice and Select grades – Prime the top scale and awarded to beef cuts of exceptional quality.
"That's what you get at New York Style Steak & Burger," Lina said. "Marbling – the little white flecks in beef – is instrumental to quality as it is key to flavour. Certified Angus Beef packs a massive flavour punch, and is extremely tender and juicy because of the high amount of marbling in every cut."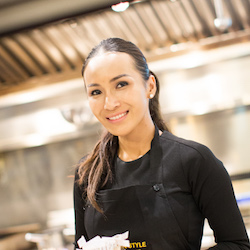 Lina, Owner